WORK OVERVIEW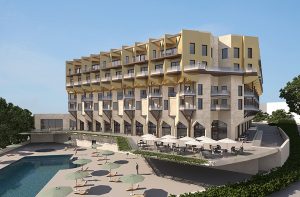 Inbal Hotel
In working with The Inbal Hotel, originally planned by renowned architect Yaakov Rechter, our office has sought opportunities to breathe new life into this city landmark, while respecting and enhancing the original architecture.
MSA has designed and is managing an architecturally innovative 51-room, 2 storey addition to the iconic landmark hotel, which features gold aluminum panels sheathing light weight structural members.  These new rooms will introduce a whole new level of luxury and opulence to the Jerusalem hospitality scene.
Modern innovative technologies have given us the chance to achieve what was previously not feasible, such as the folded glass entrance canopy, which was designed and built in partnership with Octatube, a world leading expert on glass construction.  In addition, our firm has successfully refurbished the existing guest rooms and most of the public spaces.
As the hotel industry adapts to new realities, we look forward to further opportunities to learn and grow with the hotel.